Hard Chrome Exchange
Back to Kel-Tec stuff
It seems this option is no longer offered from KT so this info is old and invalid

KT will exchange your blue or parkerized slide for a chrome one for $20. Send them your slide, barrel and assembly pin and KT will swap them for chrome parts (enclose an itemized list). With the P-32, send your recoil spring catch also.

You will get a NEW slide and barrel, and they scrap your old one. You can't beat that for $20!!!

I have heard on KTOG that they are doing parkerizing in house now, and will park your slide and barrel for $10!! But ask to be sure (I also am not 100% sure if this is for the P-3AT only or for other modles as well.)

These parts can be sent by regular U.S. mail as they have no serial number. It would be a good idea to insure them in case they are lost. First, call to make sure KT has chrome parts in stock (they send out batches to be chromed so they usually have chrome ones ready to ship out). If they do, turnaround is very quick. If not, you may have to wait several weeks until the chrome parts come in. Their number is 800-515-9983.

If you got a used KT you can opt to send in the whole gun and they will check it out and upgrade what ever needs it, but this can be more expensive to ship. If you know a FFL they can ship it for you using the Post Office for much less money, but most charge for this service. Here is some shipping info:

shiping info

KT pays return shipping so order any spare parts, accessories, etc. that you need when you do this.

Here is a P-11 slide (on top) that was plated by Jack, and a P-40 slide that was chromed by KT: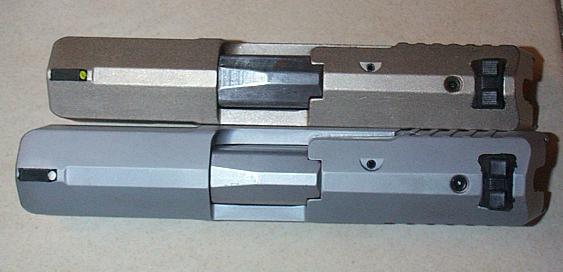 Also here is some info origonaly posted by jperko on KTOG

quote:

Wal-Mart and craft stores sell an acrylic paint called FolkArt 662 Metallic Silver Sterling that matches the appearance of the Kel-Tec Hard Chrome slide perfectly. I have used it to touch up my Hard Chrome slide, and it does a great job.

So even if your Hard Chrome slide on a Kel-Tec ever became marked, discolored, or gashed, for any reason, you can touch it up for a few cents, and it will look like new!